Thesaurus and Taxonomy Authoring Tools
MultiTes Online Login
Evaluating MultiTes Pro is easy
Download the trial version.
After download completes, run/open SetupMultitesProTrial.exe.
When prompted, select "Yes" to run MultiTes Pro.
Enter the Trial password, displayed in parenthesis.
Follow the tutorials to start building your first thesaurus with MultiTes Pro: or the follow the videos:
The tutorials are also available directly from MultiTes Pro by selecting "Help > Contents" from the main menu.

Go to the Tutorials section.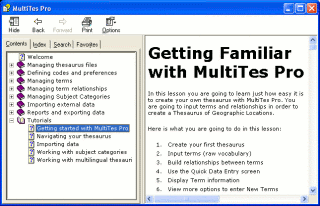 Visit the tutorials section for more resources.