Thesaurus and Taxonomy Authoring Tools
MultiTes Online Login
Evaluating MultiTes Pro is easy
Download the trial version.
After download completes, run/open SetupMultitesProTrial.exe.
When prompted, select "Yes" to run MultiTes Pro.
Enter the Trial password. If you do not have one, you can request it here.
Follow the tutorials to start building your first thesaurus with MultiTes Pro: or the follow the videos:
The tutorials are also available directly from MultiTes Pro by selecting "Help > Contents" from the main menu.

Go to the Tutorials section.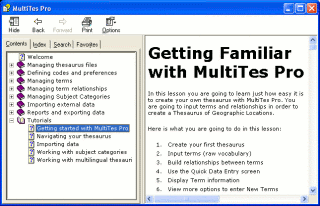 Visit the tutorials section for more resources.